Welcome Jeyo!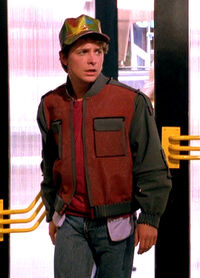 Hello and welcome to Futurepedia, the Back to the Future Wiki. I hope you like the place and choose to join our work. Here are a few good links for newcomers:
Internal pages:
External Wikipedia pages:
Remember that you should always sign your comments on talk and vote pages using four tildes, like this: ~~~~.
I hope you enjoy editing here and being a historian! If you have any questions, see the help pages, add a question to the Cafe 80's, or ask me on my talk page. Your friend in time, — Riffsyphon1024 05:40, January 12, 2013 (UTC)
A couple of questions relating to BTTF The Game
In regards to the Mental alignment meter, didn't Marty create a new mind map for Emmett as to match Kid Tannen's opposed to simply switching their mind maps (game even has Marty acknowledging that switching them wouldn't work due to the labels).
Also, I guess I should have mentioned, but given how the plant recorder (being from 1931) doesn't vanish when the timeline changes, wouldn't it qualify as 1931A technology? Antiyonder (talk) 06:27, February 16, 2013 (UTC)

Best administrator ever, made pages that gave me alot of information, thanks for the pages.
Community content is available under
CC-BY-SA
unless otherwise noted.