Welcome Madbomberfan!
Hello and welcome to the Back to the Future Wiki. I hope you like the place and choose to join our work. Here are a few good links for newcomers: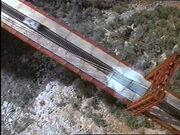 Internal pages:
External Wikipedia pages:
Remember that you should always sign your comments on talk and vote pages using four tildes, like this: ~~~~.
I hope you enjoy editing here and being a historian! If you have any questions, see the help pages, add a question to the Cafe 80's, or ask me on my talk page. Your friend in time, — Riffsyphon1024 08:28, February 19, 2011 (UTC)
I think you should stop
Some of your edits on this wiki weren't helpful, so I fixed them. You seem to have taken offense to that, but instead of talking with me about it, you have decided to branch out to other wikis and put the Delete template on my talk and profile pages. That's easily corrected, but the fact that you are doing this does not reflect well on you.
I recommend that you go back to making useful edits before this goes any further. -RRabbit42 (leave a message) 15:02, April 30, 2011 (UTC)
Community content is available under
CC-BY-SA
unless otherwise noted.