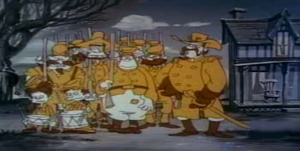 Verne's Civil War photograph was a photograph taken of Confederate soldiers during the American Civil War on February 11, 1864 in Chattanooga, Tennessee.
The holographic tutor first displayed this picture, without Verne Brown, during her lecture about the American Civil War to Marty McFly, who was studying for a test on the Civil War. Marty wasn't paying attention to the lesson, and the tutor shouted the date, activating the speech recognition of the time circuits in the DeLorean time machine.
Verne then took the DeLorean, which was pre-programmed with the date. The suitcase conversion for the DeLorean activated, and since the DeLorean could only be opened by the sound of Doc's voice or Einstein's bark, Verne was stranded there.
Doc saw Verne take off in the DeLorean, but had no idea where he went. After searching the computer for information, they discovered his picture in The Civil War, a historical record of the American Civil War. He had been killed with General Beauregard Tannen and his troops during the Battle of Chattanooga.
Doc, Marty, Jules, and Einstein take the Jules Verne Train to rescue Verne. Once there, Doc and Jules build a powerful electromagnet that attracts the weapons from both the Union and Confederate soldiers. The invention fails, however, and the brothers, who were both forced to take different sides in the war, go toward each other and hug. The soldiers, seeing the sign of affection despite the fact that the two are on different sides, embrace the relatives that they, themselves, have on opposite sides of the battle. Confederate General Beauregard Tannen makes a truce with Union General Ulysses S. Clayton, and the text of The Civil War is changed to state that General Tannen's regiment never fought a single battle during the war.
Appearances