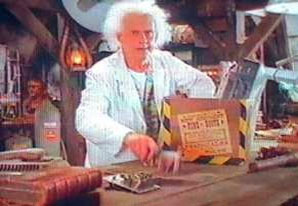 The video encyclopedia was a collection of video files that showed the viewers how to perform an action or create something for scientific value or understanding.
Each of these simple science experiments made use of everyday objects and/or substances which could be found around the home.
Behind the scenes
Each video was accessed by Dr. Emmett Brown during the closing live-action segments of each episode of Back to the Future: The Animated Series as a science experiment, performed by his lab assistant Bill Nye. In narration, Doc — portrayed by Christopher Lloyd — explained the principle as Nye silently carried out the experiment.
Appearances