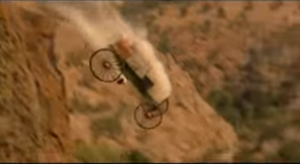 "The woman yanked hard on the reins. The horses turned in response, but the wagon was traveling too fast! The sudden change in momentum caused the team's yoke to snap, and horses and wagon parted company. The horses had turned, and were galloping to safety, but the wagon was still headed straight for the edge! / C'mon, Archimedes! Doc thought. The horse sprung ahead until Doc was right alongside the front of the buckboard. Doc reached down and wrapped his arm around the woman's back, lifting her from the speeding wagon and onto the horse before him. / The buckboard hit a large rock, turning over and dumping its contents on the ground before it flipped over a second time, falling over the edge into the ravine. / As Doc pulled Archimedes to a halt, he could hear the crash of the wagon as it smashed into splinters far below!"
—From Back to the Future Part III by Craig Shaw Gardner (quote, pages 97 and 98)
A wagon buckboard is a simple four wheel wagon that is meant to be pulled by a large animal, such as a horse, a mule, or an ox.
On March 3, 1850, Daniel Clayton and Martha O'Brien were married on the Oregon Trail. The date of their marriage was burned into a piece of a wagon buckboard, and kept by the couple as a reminder of their wedding day.
On September 4, 1885, schoolteacher Clara Clayton was killed when she fell into Shonash Ravine after the horses pulling her rented wagon buckboard were spooked by a snake. The town later renamed the ravine Clayton Ravine in her memory.
This was changed when Dr. Emmett Brown arrived in 1885. He picked Clara up at Hill Valley Railroad Station, and Clara didn't have to rent the wagon buckboard.
This was further changed, when Marty McFly arrived in 1885. Marty's presence interrupted Doc's plans, and he didn't pick up Clara at the train station. However, when her wagon buckboard was about to go into the ravine, Doc was there to save her.
After leading Clara to her house, where she would live in Hill Valley for her job as a schoolteacher, Doc said he would straighten everything out with Mr. Statler for the buckboard rental.
Appearances
Community content is available under
CC-BY-SA
unless otherwise noted.