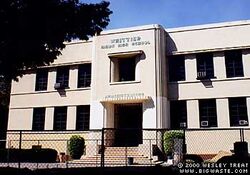 Whittier High School is a public high school in Whittier, California.
U.S. President Richard Nixon (class of '30) was one of the school's prominent alumni.
Behind the scenes
Most of the exterior scenes of Hill Valley High School, along with the interior classroom hallways, were filmed at Whittier High School.
The original school is now the administration building on the school campus, and the ADMINISTRATION sign remained over the front entrance even while signage was temporarily added for HILL VALLEY HIGH SCHOOL.
References