William "Bill" Hill was the founder of Hill Valley in 1850. A monument of him still stood in 2015. In 1992, the monument had an inscription that said "The Old Pioneer And His Mule Standing On A Hill". Clara Brown brought the founding father to 1992 to participate in the town's annual Founder's Day Celebration.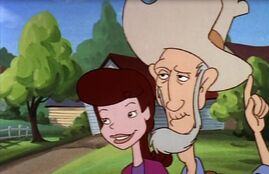 He is the grandfather of Eliza Hill McFly, the great-grandfather of Arthur McFly, the great-great-grandfather of George McFly, the great-great-great-grandfather of Dave McFly, Linda McFly, and Marty McFly, and the great-great-great-great-grandfather of Marty McFly, Jr. and Marlene McFly
Notes
Appearances
Community content is available under
CC-BY-SA
unless otherwise noted.