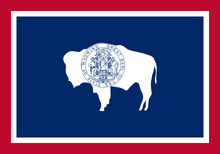 Wyoming was a sparsely populated state in the western United States. When Indians inhabited the region, migrants traveled by wagon train through Wyoming on the Oregon Trail, mainly from 1842 until 1869 when the Transcontinental Railroad was completed.[1] Wyoming Territory was established in 1868, and it became a state in 1890.[2]
In 1850, as Daniel Clayton and Martha O'Brien crossed the Oregon Trail, they converged in northern Wyoming in what would later be Yellowstone National Park. When Doc, Jules, Verne, and Marty McFly visited, they recognized Old Faithful.
Although the actual route of the Oregon Trail was in southern Wyoming, Daniel Clayton's wagon party was part of a butterfly expedition in the western territories, which could explain why it left the trail to head north.
In 2,991,299,129,912, the land that previously was occupied by Wyoming was part of the empire of Apocrypha. This empire comprised the modern states of North Dakota, South Dakota, Nebraska, Kansas, Minnesota, Missouri, Wisconsin, Illinois and Iowa, as well as parts of Michigan, Indiana, Kentucky, Colorado, Wyoming, Montana, and Canada.
Appearances
References
See also