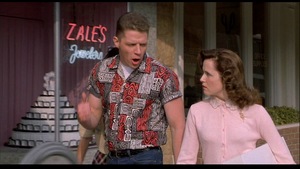 Zale's was a jewelry store.
History
In 1955, Zale's was located in Courthouse Square,[1] on the left of Hill Valley Stationers.
By 1985, Zales (now without the apostrophe, as here) had moved to Twin Pines Mall, the old Courthouse Square store was replaced by a bail bond dealer.
The location of the 1955 area was occupied by a speakeasy that was burnt down before June 13, 1931. The building that became Zales was rebuilt by February of 1932.
Behind the scenes
In commentary to Part I, Bob Gale debunked speculation by some fans that "Zale's" was a hybrid of the names of Robert Zemeckis and Bob Gale, and noted that it was product placement.
The jewelry store chain was found in 1924 by brothers Morris Zale and William Zale. At some point between 1955 and 1985, it lost the apostrophe, changing its signs from "Zale's" to "Zales".
An advertisement for Zales Jewelers can be seen on the bench that Marty and Jennifer are standing upon as they talk about going to the lake. The ad has the store's 1985 slogan, "Leading with Style", and the note that it is "Now in Twin Pines Mall".
The Zales Corporation merged with Signet Jewelers in February 2014.
Appearances
See also
References